Domestic Cleaning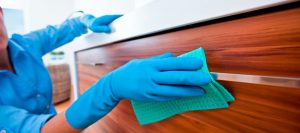 Household chores are more of a struggle than ever for busy modern day households.
We tailor make a professional service to suit your individual needs.
Our staff are trained, fully vetted and security checked and produce an effective high quality service which includes:
> Vacuuming and Mopping
> Polishing and Dusting
> Washing down Paintwork
> Cobweb removal
> Cleaning of Ovens, Fridges and Microwaves
> Cleaning Interior Cupboards
> Washing
> Ironing
> Daily Cleaning
For further information about our domestic cleaning services, or arrange a free site appraisal, or to book a site visit from our specialist team, contact us here, or call: 0800 612 2667.